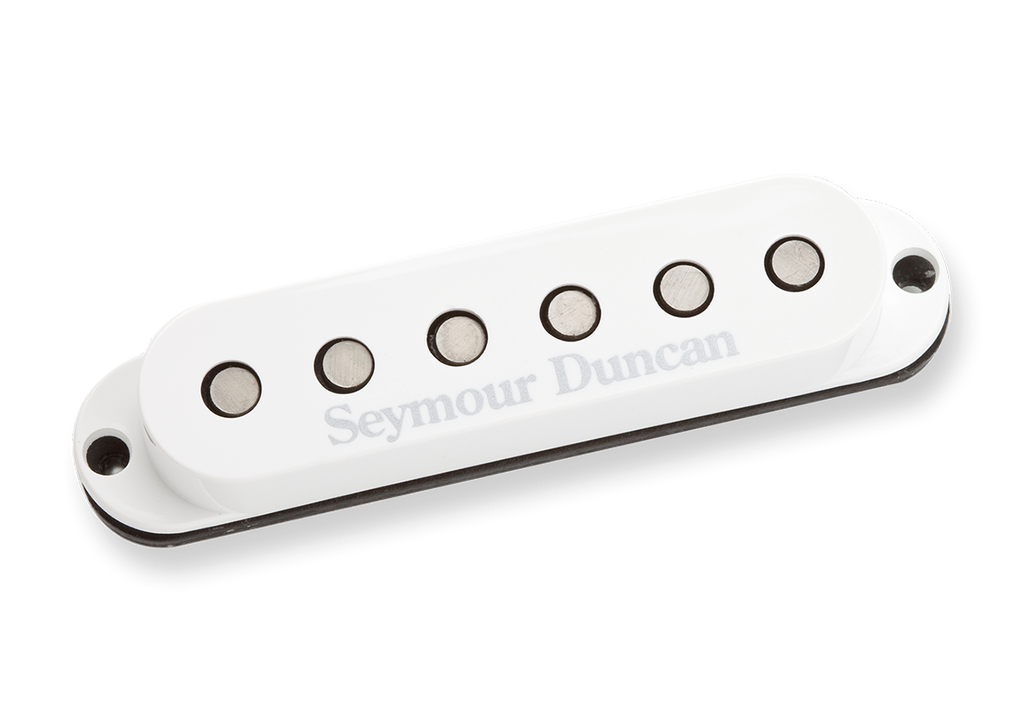 Seymour Duncan
Seymour Duncan Custom Staggered SSL-5
---
From the manufacturer:
"application
High output true single-coil for warm instruments. Perfect for Texas blues rock, classic rock and heavy rock.
description
Though it looks like the SSL-1 and has that distinct vintage tone, the SSL-5's over-wound coil yields higher output, more sustain and great harmonics. The result is a pickup that rocks hard and cuts through the mix, but cleans up nicely when you back off the volume. Includes white cover.
complete setup
Calibrated set available with RW/RP middle pickup. Many players use an SSL-5 in the bridge position with vintage output pickups, like SSL-1's, in the neck and middle for tonal versatility.
guitars
For heavier and brighter-toned instruments with ash or alder bodies. Works well with maple or rosewood fingerboards.
available mods
Reverse wound, reverse polarity (RW/RP) middle pickups for hum canceling in positions "2" and "4" on the five-way switch. Tapped version for dual output levels. Left-hand magnet stagger. Available in 7-string.
specs
Magnet type: alnico 5 rods, D.C. Resistance 12.9k
players
Nick Lashley / Alanis Morissette & Mick Jagger, Rickey Medlocke & Mike Estes / Lynyrd Skynyrd, Yogi / Wallflowers"
Best videos/sound clips:
Here's a video by Mike Garvey Blues that is meant to be an amp demo for the Laney Lionheart L5T-112 (a 5 watt, Class A EL84 power-tube 3x12AX7 preamp-tubed 1x12 amp).  Mike is playing through a Fender Strat with an SSL-5 in the bridge and SSL-1s in the neck and middle though, so he is also showing off those pickups at the same time.  A number of pedals are used off and on and they are all shown in the video, so I won't list them out here.  The amp is mic'd with an Audio Technica SM57-like mic into a Cakewalk UA 25EX audio interface.  Some really great blues tones and playing here.  The first part of the video is played with a backing track, and from 8:05 onwards is without backing track.  
Here's a video by Seymour Duncan that is very Pink Floyd inspired.  The SSL-5 is used in the bridge and the SSL-1 is used for the neck and middle position.   
 Here's another very Pink Floyd inspired video by Fuzz Labrador.  Guitar used is a Fender Squier Classic Vibe Stratocaster.  The slight fuzziness you hear on the high end sounds actually to me like he clipped his mic preamp or computer interface input, so I wouldn't attribute that sound to either the amp or the pickup.  
Ben Eller does a brief cover below of the solo from Opeth's "Windowpane".  He is playing on a Fender Squier Strat into a Kemper Profiler with a Matchless DC30 modeled.
guitarjunkie986 here plays some harder chugging chords and riffs on a Fender MIM Strat into an Avid Eleven Rack (11R) into ProTools.  
Below Matt Perkins shows off what the SSL-5 can do tapped/untapped and some general good SSL-5 tones.  For more info on what a tapped pickup is see our article on the topic here.
OsainteveO here makes a good video explaining the concept behind a tapped pickup and then he shows the SSL-5 and how it gels with his more vintage output neck and middle position pickups by GFS.  Note that he has his tapped SSL-5 wired with a blend pot (clever) so he can dial in exactly how much of a full-bodied strat sound he wants as opposed to a binary switch - I may have to use that idea in my next build!  The guitar used is a Warmoth Strat with an alder body and birdseye maple neck.  He is playing through a Marshall JCM900 and it is mic'd with a Shure SM57.  The playing starts at 4:38 if you want to skip the explanation of what a tapped pickup is.  
---
Share this Product
---
More from this collection