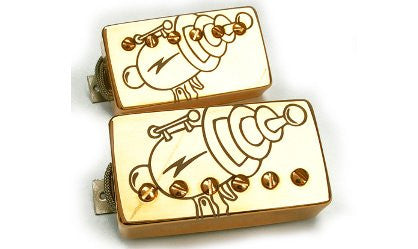 Bare Knuckle
Bare Knuckle Rebel Yell humbucker
---
Buy it from the manufacturer here
Brent's take:
I have this installed in the bridge of the carved-top neck-thru flamed-redwood/walnut guitar I recently built.  I went for the wider trembucker-style string spacing and the creme colored pickups vs. the metal covers.  I also am running this with a buffer to boost out the highs and lows (the Creation Audio Labs Redeemer circuit).  I have to say, this pickup really rocks!  This is now my go-to guitar for all things crunch through heavy distortion.  With the buffer I almost get a "hifi" metal sound, though without the buffer you are definitely in more classic humbucker distortion territory.  The price is high, but I definitely recommend this pickup.  Note that unless you buy from a US-based distributor (I haven't found one yet that holds inventory, so you may as well buy from Bare Knuckle directly), prices are going to be in British Pounds and so therefore will fluctuate with the changing exchange rate.  
From the manufacturer:
" 'The Rebel Yell just growls with an even harmonic richness that I never hear in other pickups. It's so full of clear bottom and perfect pick attack. These pickups are in a whole other league - they're the real deal!' Steve Stevens.
When Steve first came to Bare Knuckle he was adamant that the signature pickups he wanted were not just 'another metal pickup'. They had to be capable of a whole lot more. This kicked off a year of development and road testing while Steve was on tour culminating in the Rebel Yell humbucker signature set.

Closer offset coils of 43 AWG plain enamel wire retain the mid range punch of the hotter Nailbomb but produce a tighter bass response with cleaner highs and more presence. This gives the pickup an organic voice with plenty of impact, perfect for any player wanting a progressive humbucker rich in harmonic overtones and wide pick dynamics. Steve uses his volume pot a lot when he plays, so it was important that the Rebel Yell cleans up well when backing off the volume, on top of being able to push a tube amp hard for a fully saturated overdrive.

The optional custom Ray Gun graphic on the cover completes the picture adding a further unique touch to an already classic sounding humbucker."
Best videos/sound clips:
I have to tip my hat to voodoorider for the great tones and juicy playing in this video.  Especially worth watching is the "Dead or Alive" solo starting at 0:50 - I think that alone drove my purchase of the bridge.  Guitar used:  Gibson Les Paul Traditional Gold Top from 2011 with Bare Knuckle Rebel Yell pickups with burnt chrome covers (neck and bridge).
Good video here by Guitar Noize showing off the responsiveness of the pickups and how using one amp setting you can achieve a variety of tones by rolling off the volume knob.  If you want to skip to where he starts playing that is at 0:52.  His setup is a Patrick Eggle Berlin guitar direct into a Ceriatone Chupacabra 50 Head and Blackstar Cab with Eminence The Governor speaker mic'd with a single Audix i5
Here's a nicely mic'd pickup comparison video by Juan Manuel Carri.  What I like is that he goes straight from one pickup to the next, playing the same licks, without a break and (presumably) using the same settings.  He is comparing the Bare Knuckle Rebel Yell set to a set from a PRS McCarty 245 DC (I believe these should be 57/08 humbuckers, but this isn't stated) to a set of Suhr Doug Aldrich humbuckers.  Played through an Engl Powerball 100W head, Marshall cab with Celestion V30 speaker, and mic'd with a Shure SM57.
Since this is Steve Stevens we're talking about here, I feel like I have to include the below link to the Top Gun Theme.  He is playing a Hamer "SS" (Steve Stevens) model and, according to Wikipedia, is playing through a Marshall 100W plexi head with Boss compressor.  
So these are my favorite videos of this pickup on YouTube, but there are definitely more out there.  Clink the following link if you want to launch a new window and auto-search for this pickup on YouTube HERE
---
Share this Product