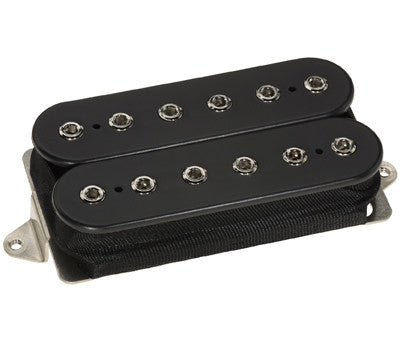 DiMarzio
DiMarzio Gravity Storm Bridge and Neck Humbuckers, DP253, DP252
---
From the manufacturer:
The Gravity Storm™ Neck & Bridge Model pickups were designed for Steve Vai, and are the next step in his pickup evolution. The pickups are named after a song on his album, Steve Vai: The Story of Light. Steve described the sound he wanted from his new Gravity Storm™ Bridge Model pickup as "a thundering cloud of ice cream". He didn't say what flavor he likes, but this one has both bite and sweetness.
A high-impact pickup doesn't need a tremendous output level to make its point. Where the Evolution® Bridge Model is about power and sharp-edged tone, the Gravity Storm™ is more about depth and warm highs and mids. It's very much a plug and play pickup — it doesn't require a lot of tweaking to get a great sound. Because the highs are very fat, it's possible to increase treble response on your amp without losing tone and sustain on the high frets.
Ethan's picks for best videos/sound-clips:
Check out Paul from Guitar World demoing the DiMarzio Gravity Storm pickups in this sweet video. Clean tone demonstrations begin at 1:35, starting with the bridge and then switching to the middle (1:50) and neck (2:02). Dirty tones can be heard from 2:18 on. The bridge pup has a high output sound with incredible bite and sweetness. The highs are fat, while the lows and mids are tight and aggressive. Right out of the box you get this thick humbucker sound with tons of body and depth, especially on a dirty setting. The neck pickup has nice warmth to it, but it also has the ability to channel brilliant harmonics. It has a bit of a single coil character to it while still sounding fat and round. Both pickups sound great on a clean setting as well, giving you crystalline, bell-like tones with amazing clarity. Whether you're looking to match Steve Vai's signature sound or just want an all-around great pair of vintage pickups with a lot of beef, these pups are the way to go.
The player is Paul Riario and he is using an Ibanez SZ guitar.
This video showcases the DiMarzio Gravity Storm pickups in a number of applications. The first minute goes through some of the crystal clean tones you can get with these pups. There is a bit of modulation added to the tone, giving you a nice progressive clean sound. These pups have lot of warmth and richness, as well as balance and clarity. It can be challenging to find a pair of pickups that shine in both a clean and dirty context, but the Gravity Storms really pull through. Listen at 1:00, to hear some of the incredible saturated tones you can get, similar to Steve Vai's signature sound.  A backing track kicks in at 1:21, when you can hear some of the creamy lead blues tones you can dial in with these pickups. Skip to 1:35 to hear these pups in a heavier context, alternating between thick low power chords and a wailing wah guitar lead. For rhythms, you get a rich sound with a tight low end and punchy mids. For leads, you get a really balanced sound with beautiful harmonic overtones. Overall, these pickups are incredibly versatile and can be used for many applications.
The player is Florian Casciano and he is using an Ibanez RG2550.
Here we have a sweet demo of the DiMarzio Gravity Storm pickups in a high gain context. The action begins around 1:20. Right off the bat it's very clear that these pups are made to be pushed with gain. The bridge pup is nice and fat, giving you a thick sound without scooping the EQ. In fact, you get a very strong midrange presence and the high end has a very subtle roll off that makes the tone beautifully balanced. You also get plenty of bite and grit without an excessive amount of output, yielding to a very rich and clear high gain sound. The neck pickup is equally as impressive. It has a great bass response and a nice melodic sound that makes for musical solo tones. It has more of a scooped EQ than the bridge, lending to a thick, bell-like tone that shredders will love. Both pickups are extremely articulate and balanced, making them a perfect pair for high gain rhythm and lead sounds.
The player is Robert Renman and he is using an Anthem WTR30TBK guitar through a Marshall JVM410H into a 2x12 cab with Celestion Greenbacks. He also used an OD1 pedal and a Standard Crybaby Wah.
Check out this DiMarzio pickup shootout, which compares various high output pickups in a metal rhythm application. You can hear the Gravity Storm pickup from 0:41 – 1:13. You can instantly hear how well this pickup excels in this context, given its cutting midrange and fat low end. Each note is incredibly articulate and chords punch with pure power. You can really hear how smooth the saturation is as well as the potential for endless sustain, if the player were to ring out those thick chords. This pickup also captures pick attack in a very precise way, allowing heavy rhythm riffing to slice right through with plenty of bite and attack. Out of all the pickups demonstrated, the Gravity Storm seems to sound the most versatile as well, giving you a really balanced sound that can handle a number of tonal applications.
The player is Matt Bodnar and he is using Jackson a Jackson guitar into a Boss SD-1 as a clean boost into a Laney Ironheart 120. The cabinet was Two Notes Torpedo Wall of Sound III. He also used the Jet City Jettenuator as a Load Box into the Steinberg UR824 interface.
Take a listen to the epic lead tones you can get with the DiMarzio Gravity Storm pickups. These pups were made to accommodate the intricate playing styles of Steve Vai and boy do they deliver! In the bridge position you get this incredible bite and a complex midrange, activating killer harmonics for a melodic lead sound. The highs are present, but rolled off just enough to keep the tone balanced; the lows are warm and fat, giving you a rich bottom end with amazing depth. Each note soars above the mix with amazing clarity and detail. The neck pickup has its own unique voicing, with a really nice scooped sound that is smooth and responsive. You can literally hear every note being picked in the cleanest way, accentuating the intricate playing styles of virtuosos and shredders. You really can't go wrong with these pups!
The player is Dimitar Nalbantov and he is using an Ibanez RG through Overloud TH2.
Here is a different perspective of the Gravity Storm bridge pickup. It is wired in parallel, which tends to brighten up the sound while cutting out some of the midrange and lower frequencies. The output is also reduced as a result of this modification. This pickup, although known for its cutting midrange, still sounds quite nice in parallel. Although you lose a bit of that midrange bite and edge, you get a sweeter tone that is a little smoother and more balanced. In this demonstration, the pickup is fitted into a Les Paul style guitar, which warms up the tone even more. Overall, I think this is an interesting take of the Gravity Storm pickup. The mod slightly alters the natural character of the pickup, but not necessarily in a negative way.
The player is Koki Zuniga and he is playing Eric Johnson's "Cliffs of Dover" with an Epiphone Les Paul Custom Black Beauty guitar through Guitar Rig 5.
---
Share this Product
---
More from this collection