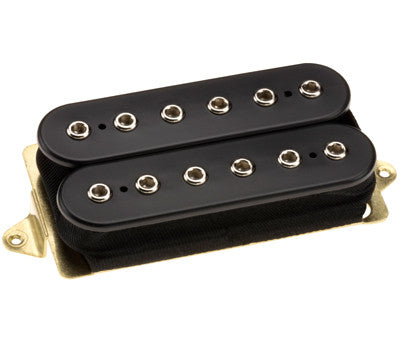 DiMarzio
DiMarzio Humbucker from Hell DP156
---
From the manufacturer:
Because a conventional humbucker senses the string at two different places, it cancels some frequencies along with the hum. What if there was a humbucker that cancelled fewer frequencies? It would be brighter and cleaner: almost glassy-sounding. In other words, it would sound a lot like a Strat® pickup, but with about the same power as a PAF®. We created The Humbucker From Hell® primarily as a neck pickup. You won't believe how much it will open up the sound in the neck position of a Gibson® Les Paul®, and it has an almost acoustic quality in the neck spot of a bolt-on guitar. Why is it called The Humbucker From Hell®? Try it in the bridge position with a bright amp — but put in your earplugs first, and don't say you weren't warned.
Okay, we admit it — it's a strange name for a pickup that's not a mega-voltage monster, but try it in the bridge position with a really bright amp and you'll get it. What we really wanted was a super-clean neck pickup, because we've heard years of complaints about muddy-sounding humbuckers. This pickup is the cure. With some guitar/amp combinations, it can sound almost acoustic. With others, it's real Strat®-like. Aside from canceling 60-cycle hum, it bears very little resemblance to a standard humbucking sound.
Ethan's picks for best videos/sound-clips:
Here is a clip comparing a generic Gibson neck humbucker to the DiMarzio Humbucker From Hell in the neck position. To hear the Gibson, listen from 0:15 - 1:40. On the surface it sounds like a decent humbucker with a lot of bass and output, yet it can sound muddy and dull at times -- lacking the clarity and character you'd expect from what is supposed to be a very clear and musical sounding pickup. Skip to 1:48 to hear the DiMarzio Humbucker From Hell as an alternative. You'll mainly notice that it is brighter sounding, with greater clarity and bite than the stock Gibson humbucker. It has this glassy character that almost sounds like a single coil, yet it has the girth of a traditional PAF sound. The result is a very clean sounding humbucker that has a lot of presence and character.
The player is using a Gibson Les Paul. 
The reason behind the name "Humbucker From Hell" is the notion that this particular pickup sounds shrill and unpleasant in the bridge position, and is more ideal as a neck pickup. This clip may present a counter argument for this generalization, as most of the solo is played using a Humbucker From Hell in the bridge -- and it doesn't sound bad at all! When using this pickup in the supposed unconventional way (bridge position), it's important to consider the application it's being used for. In this clip for instance, the genre and solo calls for a bright lead tone that will cut through the mix and have plenty of clarity and precision for lightning speed passages (including tapping). The pickup doesn't sound particularly shrill in this clip, and its brilliant top end brings out a lot of nice harmonics and adds clarity to each note. Putting a Humbucker From Hell in the bridge may be unconventional for most applications; but for some, it can add a lot of personality to your performance if dialed in just right.
The player is Alex Riccardi and he is using an Ibanez RGT220A through an ENGL Gig Master 15 and Marshall SE100 speaker simulation.
Check this Ibanez RG 2550 loaded with a Humbucker from Hell in the neck. You can really hear this pickup shred at around 5:55. It has that single coil characteristic that allows each note to cut with amazing presence, yet it has the depth and fullness of a humbucker. It does really well in shredding applications involving sweep arpeggios, tapping, and fast passages because it has this bell-like tone and articulate sound -- giving you this colorful tonal personality with insane precision and clarity.
The player is Kanal von Saiova and he is using an Ibanez RG 2550 through an ENGL Steve Morse amp.
You can get some pretty amazing lead tones using the Humbucker from Hell in the neck position. Check out this 30-second solo to see just how sweet this pickup sounds. You really do get a sort of bounce and brilliance that is characteristic of a single coil pickup, yet the tone is so full and round that you can't deny the pickup's true PAF quality. Each note cuts like glass and has a top end that chimes and a low end that keeps everything mellow and tame. Ultimately, the DiMarzio Humbucker from Hell is an amazing neck pickup choice for just about any style.
The player is using an Epiphone Sheraton II through a Hiwatt amp.
---
Share this Product
---
More from this collection