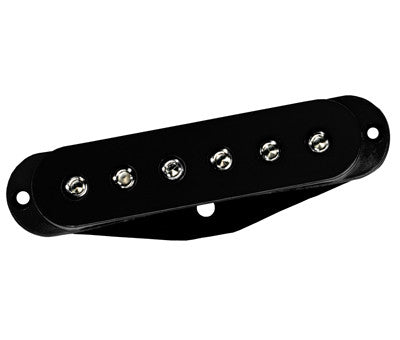 DiMarzio
DiMarzio SDS-1 Strat Single Coil Bridge, DP111
---
From the manufacturer:
It might look like a Strat® guitar pickup, but the SDS-1™ adds punch, gain, and warmth reminiscent of the best old soapbar pickups. The adjustable pole pieces don't pull as hard as regular rod magnets, so you can get the pickup closer to the strings for stronger output. The highs are less exaggerated and the bottom is deeper than most singles for a rounder, darker tone. If your guitar's bridge position sound is too edgy, without the push needed to drive your amp, remedy the situation with an SDS-1™. Add a pair of True Velvet™ pickups for sparkle, or a True Velvet™ in the neck and an FS-1™ in the middle for balanced tone choices.
The bar magnets that power the SDS-1™ are ceramic, but the sound and feel are very similar to Alnico-equipped soapbars, partly due to the big steel pole pieces and spacer bar. This type of magnet structure also has noticeably less magnetic pull than standard rod-magnet pickups, even though the output is very high for a single-coil.
Ethan's picks for best videos/sound-clips:
This clip shows off the DiMarzio SDS-1 with some Alice In Chain's guitar tones. This pickup works pretty well in that context because that genre calls for a tone that is a little darker with a good amount of gain on tap. The SDS-1 definitely has a sort of soap bar pickup sound with a lot of punch and power, with pronounced lower mids and a top end roll off. The result is dark and fat sound with just enough edge and warmth for a good hard rock tone.
The player is using a Fernandes Stonehead Stone Logo Strat copy. 
You can hear a quick sample of the SDS-1 pickup in the middle position of a strat in this clip (skip to 1:25). This pickup does a nice job fattening up the strat, giving it a strong output and an extended dynamic range. The tone itself is a lot darker than your traditional strat, yet the lower mids snap nicely and the sound stays pretty mellow in a sweet way. The SDS-1 is good for players who want to thicken up their strat sound and have a rounder tone with greater output.
The player is James Tuer and he is using a 2001 American Standard Strat through a Fender Blues Deluxe.
---
Share this Product
---
More from this collection