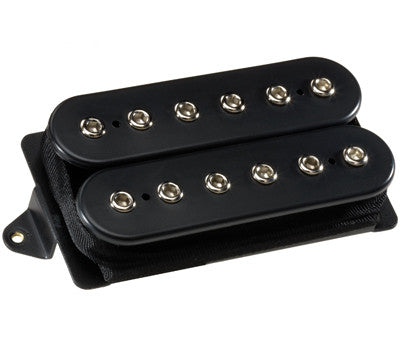 DiMarzio
DiMarzio The Breed Humbuckers, Bridge and Neck, DP165, DP166
---
From the manufacturer:
If you're a fan of Steve Vai, you've probably seen him playing an Ibanez® Jem guitar with the word "Pogo" taped on the face. Steve wanted one of his instruments to have a fat, classic humbucker sound to contrast with the hotter, screaming Evolution®-equipped guitars. These are the pickups we developed for him. The neck pickup is a bit louder and fatter-sounding than the PAF Pro® pickups that Steve used on his earliest Jems. The bridge pickup is not as hot as the Evolution®, but it's got a warm and punchy mid-range coupled with a fat low end that rolls off before it can get muddy. Harmonics are easy to get, and the 4-conductor wiring enables cool "notch tone" coil-splitting.
The Breed™ is a bit louder and fatter-sounding than the PAF Pro® pickups that Steve used on his earliest Jems. As a neck pickup, it has more than enough power to balance with high-output bridge pickups: it will work with The Tone Zone®, Super Distortion®, and Evolution® as well as The Breed™ Bridge Model. In the bridge position, it has a very warm, hot PAF® tone — really smooth, with nice harmonics.
Ethan's picks for best videos/sound clips:
Here is a video comparing DiMarzio The Breed pickups to Evolution pickups – both commonly used by Steve Vai in his Ibanez Jem guitars. The player in this clip filters between each pickup, demonstrating them both over a melodic backing track and using mainly lead tones. These pickups are strikingly similar in tonality, with only subtle variations. The Breed neck pickup has that classic PAF humbucker sound; it's smooth, warm, and fat and has a lot of output. The bridge pickup isn't as hot as the Evolution pup, but it still has plenty of midrange to punch through the mix with pure power. Additionally, the tone is still very expressive and harmonics are easy to achieve. The Evolution, in contrast, has a screaming sound and an insanely hot output. It is tight, aggressive, and loud – giving you plenty of harmonic overtones and bite. Overall, the Evo pickups have a little more edge than The Breeds, but lack that classic PAF tone. It all comes down to preference, and there is certainly a reason why Steve Vai uses both!
The player is Sakchai Yimyoo and he is using an Ibanez JEM7VWH, playing Gary Moore's "Still Got The Blues."
In this clip, you get to hear the DiMarzio The Breed bridge and neck pickups during a killer melodic solo. The player is primarily using the bridge pup, but occasionally switches to the neck for fast passages (listen at 0:28 – 0:36). The bridge pickup has a tight and aggressive sound that isn't too hot, yet it still manages to pick up harmonics and squeals with ease. The midrange is right where you want it to be for those cutting solos, and the low end warms things up really nicely. The Breeds also seem to have pretty good sustain and handle saturation well, especially in the neck. The neck pup has a very bell-like quality to it and the sound is very precise, allowing fast passages to comfortably articulate and punch through the mix with clarity. Overall, The Breeds are great pickups for players who want that virtuoso sound, especially for high gain applications.
The player is Dimitar Nalbantov and he is using an Ibanez RG570 through a VST called Studio Devil Amp Modeler.
Check out this quick improv jam, featuring a DiMarzio The Breed in the bridge. Shredders will love this pickup for its tight, aggressive mids, rich harmonics, and incredible definition. Fast runs will cut with amazing precision and clarity, while string bends and soaring passages will ooze with beautiful overtones and long lasting sustain. The Breed is a killer pickup with fat PAF tone for all your solo needs.
The player is Fredrik Pihl and he is using a Vigier Excalibur guitar.
Listen to the edgy metal tones you can get with the DiMarzio The Breed in this quick video clip! Solos soar high above the mix with cutting mids and focused lows for a tight lead sound. The top end also adds a nice presence to the tone and introduces some killer harmonics. Players who love to tap and do sweep arpeggios will love how clear and precise this pup sounds, articulating every note and slicing right through the mix with ease. The Breed can also handle metal rhythm tones surprisingly well (listen from 0:25 on).
The player is Genji Genji and he is using a Strat.
---
Share this Product
---
More from this collection