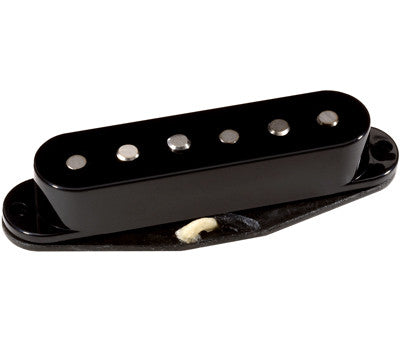 DiMarzio
DiMarzio True Velvet Strat Pickups, Neck (DP175), Middle (DP175S), and Bridge (DP176)
---
From the manufacturer:
The True Velvet™ is a further development of our Blue Velvet™ line. We've re-tuned the basic frequency response to hone in on the strongest aspects of vintage single-coil tone. The best vintage single-coils emphasized a "sweet spot" where the sound is bright but not piercing. The True Velvet™ is tuned to this spot, making it equally effective for many playing styles, from the clarity of country music to the grit of Texas blues.
Bridge:  It's not difficult to make a vintage single-coil pickup that's clean and bright, but not so easy if you also want the high strings to sound sweet above the 12th fret. The True Velvet™ Bridge was designed to make this happen by tuning the coil to a frequency range that's bright but not thin. We combined this with a magnet stagger specifically designed to enhance string balance, which produces great clarity, even with full chords. The True Velvet™ Bridge is just a touch warmer and louder than the Neck and Middle, so the transition between pickup positions is very smooth and natural. The True Velvet™ Bridge comes standard with hand-ground magnets and vintage cloth covered wire.
Neck/Middle:  The True Velvet™ Neck and Middle models have the same specs except for reverse polarity on the middle pickup for hum cancellation in the 2 and 4 positions. The True Velvet™ Middle comes standard with hand-ground magnets and vintage cloth covered wire.  For technically-minded players, reverse polarity on our true single-coil Strat® replacements is south up.
Ethan's picks for best videos/sound-clips:
Paul Riario shows off the DiMarzio True Velvet pickups in this short demo video. He compares the qualities of these pickups to those of classic vintage strat pickups --with all the warmth, quack, and clarity of true single coils. Skip to 1:00 to hear the bridge pickup, which has very nice grit and twang. The bridge and middle pickups combined give you that typical strat "quack" sound (listen at 1:45). The middle pickup at 2:30 has a very natural single coil tone with amazing clarity and punch, making it an ideal pickup to combine with any of the other True Velvets (especially the neck pickup). Listen at 3:10 to hear the middle and neck pickups combined for a classic strat sound that is warm and snappy. Skip to 3:52 to hear the neck pickup alone, giving you amazing warmth and honk for a fat single coil sound. The True Velvets are amazing strat pickups for smooth tones with plenty of warmth, clarity, and true vintage single coil character.
The player is Paul Riario from Guitar World magazine and he is using a Fender Strat through a Vox AC15 hardwired head and cab.
---
Share this Product
---
More from this collection