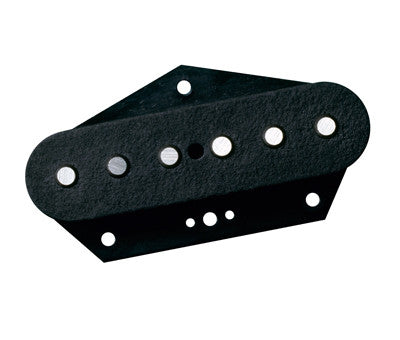 DiMarzio
DiMarzio True Velvet T Tele Bridge
---
From the manufacturer:
The sound of a great vintage Tele® bridge pickup - if you can find one - is almost magical. It blends elements that shouldn't be able to coexist: sizzle and warmth, sharp attack, and smooth sustain. In other words, it has depth. Single notes have weight and presence, and chords have detail and dimension. This was our goal for the True Velvet™ T Bridge. Controlled-tension coil winding, custom wire and hand-calibrated magnets give the True Velvet™ T real vintage sound, and double wax potting ensures that it's squeal-free.
Like the Twang King™ Bridge model, our sonic goal was to combine the best tonal qualities of several Broadcaster® and Telecaster® pickups from the '50's and early '60's. The difference is the "size" of the sound. The True Velvet™ T Bridge is bigger, and there's greater dynamic range, from soft to loud.
Ethan's picks for best videos/sound clips:
Check out this Michael Tuttle Tuned T guitar, which is equipped with DiMarzio True Velvet pickups in the bridge and neck positions. These are great go-to pickups for achieving a classic Tele sound with a very rich and musical tone. Skip to 0:28 to hear the neck pickup, boasting a fat sound with sweet treble attack and a warm low end. With both pickups engaged, you get brilliant bell-like tones that twinkle -- giving you the warmth of the neck and the bite from the bridge (listen at 0:50). The bridge by itself gives you that classic tele twang and character we all know and love -- perfect for country, blues, rockabilly and more (listen at 1:05). Skip to 1:45 to hear some overdriven clips, highlighting the Velvet T's natural breakup and snap. You really can't go wrong with these pups!
The player is Jeff McErlain and he is using a Michael Tuned T guitar through a Bogner Mojado amp.
Here's a quick look at the DiMarzio True Velvet T pickups. The action starts at 0:10 with a few riffs, highlighting the natural twang and snap that make these pickups perfect for blues or country applications. Skip to 0:50 to hear the fat neck pickup in a jazz context, giving you snappy highs and deep lows for a round, mellow sound that is perfect for jazz rhythm and leads. You can even get some fantastic funk tones from the bridge pickup, giving you tele twang and a nice percussive character (listen at 2:00). The True Velvet T pickups are really useful pickups for all of your traditional tele applications -- from blues to funk, country, rock, and beyond.
The player is using a Tele Partscaster with Musikraft body and neck.
This clip demos a Super Reverb amp using a tele that is stocked with DiMarzio True Velvet T pickups (guitar playing begins around 0:30 in). You'll immediately notice how warm and balanced these pickups sound -- with a very deep bass response, sparkly highs, and plenty of output for a fat sound. Skip to 1:40 to hear the neck pickup alone, yielding a very mellow sound that is perfect for sweet jazz tones. The bridge can be heard at 2:10, with nice spank and punch for classic tele tones. In every position, these pickups sound fantastic -- always giving you clear tones that are classic and versatile.      
The player is using a Fender Telecaster through a Fender Super Reverb amp.
---
Share this Product
---
More from this collection