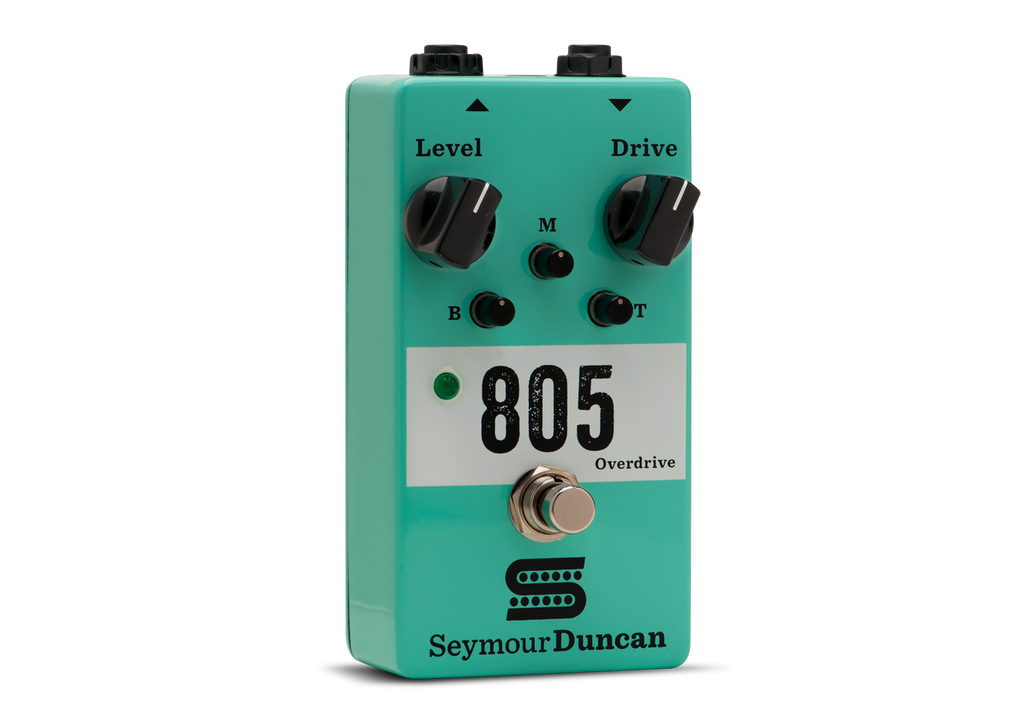 Seymour Duncan
Seymour Duncan 805 Overdrive Pedal
---
From the manufacturer:
"
Summary
A classic overdrive gives a subtle boost, fat crunch, or a searing tone to your solos. 3-band active EQ shapes your tone just the way you want.
Description
Whether you're looking to give your sound a bit of a boost or trying to find harmonically rich heavy gain with warm tube character, the 805 overdrive provides the versatility needed for any type of music – blues, country, rock, metal, and everything in between. The 3-band active EQ, delivers unprecedented control -you can have a smooth, lyrical bluesy tone one minute, and crushing modern metal crunch the next. The 805 is designed to be the perfect overdrive for pushing the front end of an already distorted amp, giving you plenty of output and tone-shaping capability, but can also give your clean tone a controlled boost. Scoop your mids or tighten your hard rock/metal tone in front of a high gain amplifier. Give that solo a searing boost that cuts perfectly through the mix and give your low end rhythm parts controlled crunch. The 805 is capable of any of these and more. Being a true-bypass pedal, it will feel at home on whatever pedalboard you choose.
Like all of our pedals, the 805 Overdrive is designed and assembled at our Santa Barbara, California factory by the same team responsible for our legendary pickups.
"
Best videos/sound clips:
Whether you're looking to add a little dirt to your clean signal or tighten up your heavy gain sound, the Seymour Duncan 805 overdrive is a great pedal choice. It features a level and drive knob, as well as a three-band EQ -- giving you a huge pallet of tonal options. Skip to 0:20 to hear the transparent bluesy overdrive sounds you can get with the 805, adding natural grit to a clean sound for a little kick. Alternatively, the 805 can handle modern metal tones just as well (0:45), with tight low-end and crystal highs for endless punch and clarity. Whether you want a little boost to your tone or full tube saturation, the 805 is a powerhouse that provides plenty of tone-shaping opportunities for all your needs.
 The player is Danny Young and he is using a Strat style guitar through a Marshall DSL50 combo amp. Watch at 1:51 to see the pedal settings.
In this video, country guitarist Mark Mackay demonstrates three sounds he favors from the Seymour Duncan 805 overdrive pedal. Jump to 2:10 to hear a mild overdriven sound for some classic country tones. Mark has the pedal set with the level at 1/3 and the drive at 2/3, while his EQ is set with mid and treble frequencies boosted (2/3) and bass control at halfway. The result is a nice warm tube overdrive sound that makes for great country rhythm and lead sounds. Listen to the bite of the bridge pickup at 2:30 and hear the pedal sing. Mark cranks the drive and demonstrates just how much the overdrive can push the signal in a very musical way. Listen to the neck pickup at 3:05 and the bridge at 3:25 to hear the different tonal variations you can get -- from a warm bluesy tone with big sustain to an edgy country lead tone with plenty of bite. Finally, Mark demonstrates his third favorite sound from the pedal by turning the drive down and letting the pedal act as more of a clean boost, pushing the signal just a tiny bit for a little more punch and definition for clean chords and melodies.
The player is Mark Mackay and he is using a Reverend Telecaster with Seymour Duncan Antiquity pickups through a Mesa Boogie Lonestar amp.
In this video, Paul from Guitar World magazine demos the 805 overdrive pedal in all its glory. Listen at 0:15 to hear the pedal with every control set flat, yielding a fat overdrive sound with plenty of crunch and response for thick chords and wailing leads. You can really get creative adjusting the three-band EQ, level and drive controls. Listen at 1:02 for a scooped sound with the drive a little lower. For full saturation, listen at 1:35 to hear the drive maxed out; or if you just want to boost the front end of your amp, listen at 2:25. The options are limitless with the 805, from a simple clean boost to overdrive, full distortion, and beyond
The player is Paul Riario from Guitar World magazine and he is playing a Charvel Strat through an EVH 5150 half stack.
Here is a great clip showcasing the high-gain metal sounds you can get with the Seymour Duncan 805 Overdrive pedal. A lot of metal players love to use this pedal to tighten up high-gain rhythm sounds coming from their amps, taking advantage of its uniquely transparent gain curve and three-band EQ section. The 805 will work wonders for heavy open chords, palm muting, and quick riffing -- making it a powerful tool to have in your arsenal, especially for heavy tones.
The player is Keith Merrow and he is playing a Schecter KM6 through a 5150 amp.
In this clip, player Nick Johnston talks about the different ways he likes to use the 805 overdrive pedal. One of the ways he references is using the pedal to add dynamics to a single coil sound to make the notes jump out more and to give them more life and character (listen at 1:08). Nick also mentions the amount of real estate you can cover with this pedal and how it always manages to sound musical no matter what. Depending on how he adjusts the level and drive controls or the EQ section, he is forced to play differently, giving him a huge pallet of tonal options --from a mild blues overdrive to full out intensity. Listen at 4:35 and onward to hear how the pedal can affect the tone dramatically in a number of ways, giving you everything from a mild boost to a heavy gain sound.
The player is Nick Johnston and he is using a Schecter USA Custom Shop with Duncan Texas Hot pickups through a Quilter Aviator 2x10 amp.
This is a very in-depth look at the 805 overdrive pedal and its various tonal characteristics. Skip to 2:10 to begin hearing the pedal in action with the drive on low for a mild boost. Bring up the drive (2:45) and you will start to get classic crunch tones with plenty of clarity and body. As you incrementally increase the drive you will eventually reach high gain territory for hard rock and metal tones. The video goes on to highlight some of the different tones you can achieve by taking advantage of the EQ section and using different guitars. This pedal definitely affects the tone differently depending on the types of pickups being used. Listen from 8:25 on to hear the pedal adjusted in a variety of ways using different guitars, noting just how versatile and dynamic this pedal is.
The player is Steve "Pixxylixxx" and he is using an Ibanez S470, a Les Paul copy, and an '82 Fender Strat.
---
Share this Product
---
More from this collection