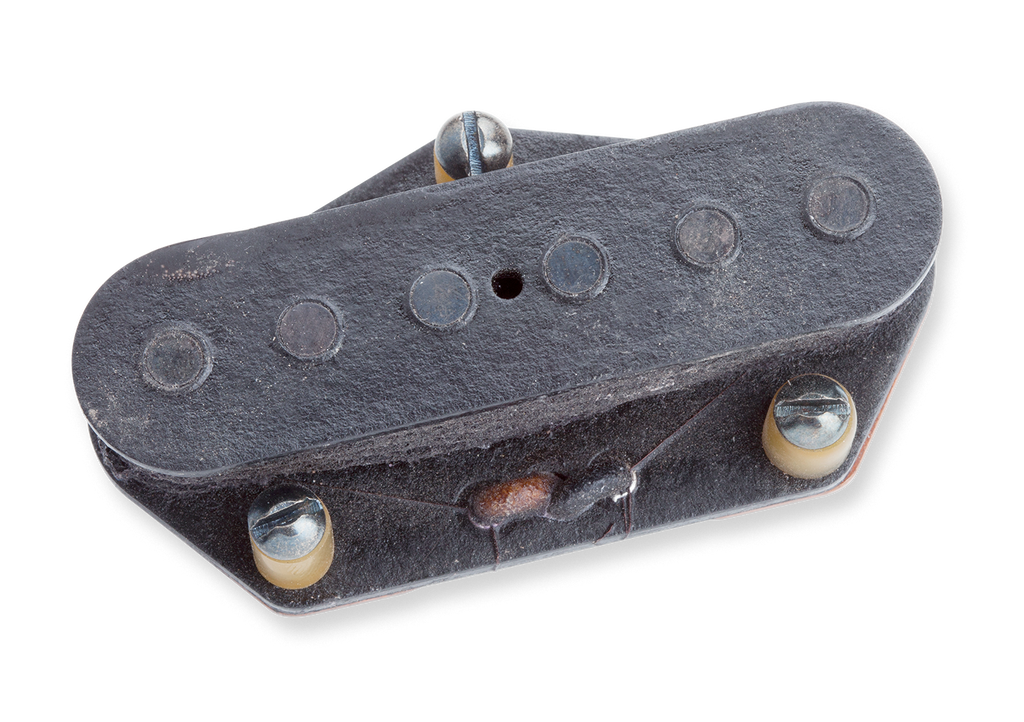 Seymour Duncan
Seymour Duncan Antiquity for Tele Bridge
---
From the manufacturer:
"
Summary
Classic twangy 50s Tele Lead tone, custom aged for a smoother treble response.

Description
The Antiquity Tele Lead will give you that early 50s Tele tone, but with the high end sweetened by the custom calibrated hand ground alnico 2 rod magnets. What you get is the classic Tele twang and snap, but with a treble response that is nice and bright without being piercing. Like the originals, the ferrous bottom plates are not wax potted for that breakin up Telecaster twang tone that is just on the verge of feedback.Each pickup is hand-fabricated and scatter-wound in our Custom Shop, and all parts are aged to give the look and sound of a pickup that has been played for decades. We use vintage style push back cloth wire, and they are all lacquered and potted in lamp black paraffin wax, like they were in the 50s.
"
Best videos/sound clips:
 Here is a nice clip demonstrating the classic 50s Tele tone you can get from the Seymour Duncan Antiquity pickups. Jump to 1:42 to hear the bridge pickup in action. It has a nice vintage ring to it with classic Tele twang and snap that never sounds too harsh. The pickup is extremely bright, but has a natural compression that seems to mellow out the highs just enough to sound balanced. This pickup is great for a jangly rhythm tone with plenty of sparkle and bite.

The player is Andy Othling and he is playing a Parts Telecaster through a Matchless Clubman head through a cabinet loaded with a Celestion Blue speaker.
This clip compares the Seymour Duncan Antiquity Tele pickup to the Lindy Fralin Blues Special Bridge pickup. Beginning with the Duncan Antiquity on a light drive setting, it's easy to see where this pickup shines. It has a beautiful twang that pairs well with a bit of gain for plenty of bite. The tone is really well balanced, with tight low-end and crystal highs for a full classic sound with some edge. The Fralin Blues Special bridge pickup in comparison at 0:18 is extremely comparable in sound, yet has a more focused low-end and less twang than the Antiquity. Jump to 0:30 to hear how well chords ring out with amazing clarity using the Antiquity. This pickup really shines when it's on the verge of breakup, providing natural grit that lends to a very vintage tone. The Fralin Blues at 0:42 also sounds nice when ringing out chords, yet it has a lower output and yields a much more mellow and clean sound than the Antiquity. You can really hear the Antiquity scream at 0:55 - with a little more gain on tap - ideal for classic rock and bluesy tones. The Fralin in contrast at 1:15 has a very comparable bite and tone, yet has a little more low-end in store for a slightly different vibe.

The player is Curt Gorden and he is playing a Custom Built Telecaster with an Alder body and Maple neck and fingerboard with a Glendale raw deal bridge and steel saddles through a Vox AC10 amp.
---
Share this Product
---
More from this collection