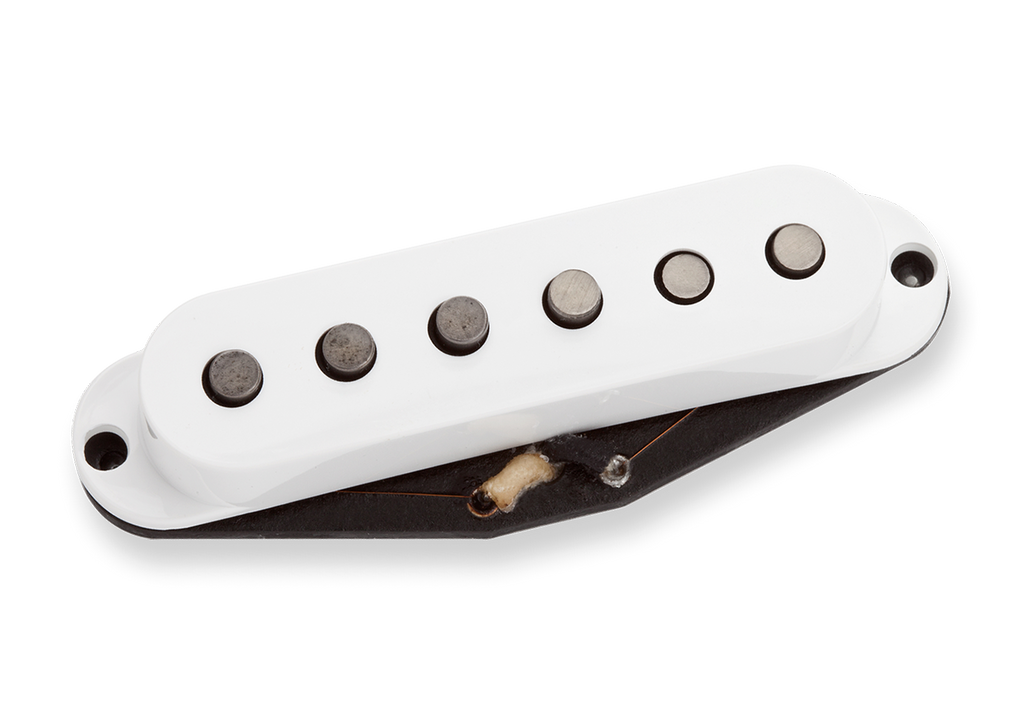 Seymour Duncan
Seymour Duncan Five-Two SSL-52 single coils
---
From the manufacturer:
application
Extremely balanced true single-coil pickup. Recommended for country, pop, blues, classic rock and heavy rock.
description
Alnico 2 magnets provide warmth and softer attack on the three high strings. Alnico 5 magnets provide punch and brightness on the low strings. It's like having two separate presence controls: one optimized for the high strings and one for the low strings. The result is a very balanced pickup with a bright and springy bottom end, and a smooth and rich top end. Includes white cover.
complete setup
Calibrated set includes a higher-output custom bridge pickup, RW/RP middle and regular neck pickup.
guitars
For all well-balanced instruments. Works equally well with maple and rosewood fingerboards.
available mods
Hotter custom bridge version for better output balance. Reverse wound, reverse polarity (RW/RP) middle pickups for hum-canceling in positions "2" and "4" on the five-way switch.
players
Webb Wilder, John McDuffie / Rita Coolidge, Darryl Preston / Rhett Akins, Michael Fath
Ethan's picks for best videos/sound-clips:
The name SSL-52 is derived from the pickups' use of Alnico V and Alnico II magnets to provide a balance of tones on both the high and low strings. The Alnico II's cater to the three high strings, offering a nice warmth and subtle attack. The Alnico V's assist the lower strings, providing brightness and punch for more clarity and presence. The result is a sound that remains balanced between all strings, with a bright, bouncy low end and a rich, smooth top end. This clip runs through the pickup set, highlighting the fat neck and screaming' bridge pickups, and all the positions in between. You can get killer rhythm tones with plenty of grit, or thick leads with amazing articulation and saturation. The most impressive part is how the SSL-52's manage to stay consistent and even across all strings, yielding brilliant tones that never disappoint.
The player is Darek Wawrzyniak and he is using a Squier Strat through a Cornford RH30 amp.
While most strat pickups solely rely on Alnico IV magnets, the SSL-52s also utilize Alnico II magnets for a hybrid sound that is powerful, articulate, and balanced. This video showcases the neck pickup only, but it's enough to get an idea of what this pup can do. The opening riff features palm mutes on lower strings, with the Alnico IV's adding a top end presence for a springy sound that is punchy and clear. Skip to 0:30 to hear the Alnico II's kick in on the higher strings, lending to a softer and sweeter tonality (without sounding brittle and harsh).  You get a clear and bell-like timbre that consistently stays smooth and even. Skip to 1:35 to hear both magnets in action; there really isn't an audible transition across the strings, and the sound stays extremely balanced despite the pickups' hybrid character. For players that want airy highs and articulate lows, the SSL-52s give you the best of both worlds.
The player is Joe Gore and he is using a homemade "parts" strat through homemade stompboxes, a Boomerang III looper, and a Divided by 13 CJ-11 amp.
This clip proves just how versatile the Seymour Duncan SSL-52 pickups are. The neck pickup gives you a full-bodied sound that is extremely rich and articulate; the lows are really spongey and warm, while the highs are pretty smooth and velvety. Switching to the neck/middle combo at 0:30, you'll really begin to hear how balanced these pickups are -- adding a presence boost to lower notes and rounding off the highs to avoid sounding harsh. The midrange stays pretty consistent, giving you a nice punch that cuts like a knife. Skip to 0:40 to hear the middle pickup, boasting a percussive sound that is extremely dynamic and sweet sounding. Combine it with the bridge and you get a nice slinky strat sound with crisp highs and even mids. The bridge (1:15) also rocks a very expressive tone with a natural breakup that sings and screams in the best way. For a nice balanced strat sound you can't go wrong with the SSL-52 pickup set!
The player is Gerry Blue and he is using a cherry Fender Strat.
---
Share this Product
---
More from this collection