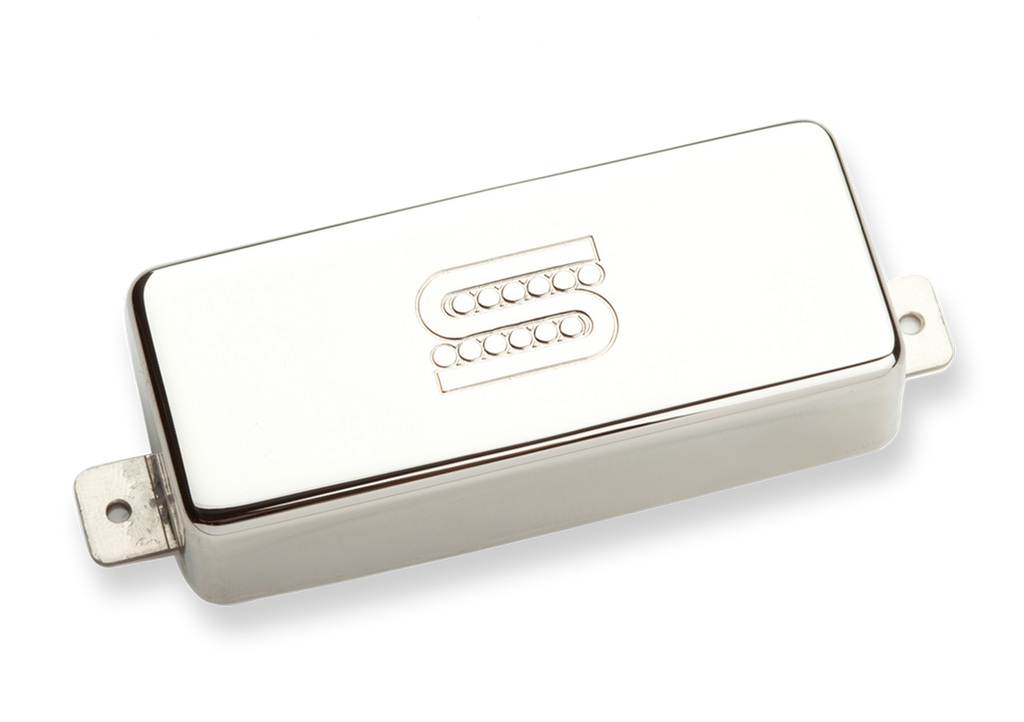 Seymour Duncan
Seymour Duncan Seymourized Mini-Humbucker SM-3
---
From the manufacturer:
application
Hotter-than-vintage mini-humbucker. Great for blues, classic rock, southern rock, jam and hard rock.
description
With this unique design, each coil contains a high-carbon steel blade coupled to the bottom-loaded Alnico V magnet. The result is more midrange, more clarity and more detail than the SM-2. Comes with four-conductor hookup cable.
complete setup
Available for both neck and bridge positions. The bridge version is high output. The neck version is compensated for tonal balance. Often, an SM-3b Seymourized is used in the bridge with an SM-1n Vintage in the neck for versatility.
guitars
For balanced and warm instruments. Works especially well with soft wood bodies (e.g., mahogany and swamp ash) and rosewood fingerboards.
players
Al Schnier / moe., Brian Stoltz / Funky Meters, Dean Parks / sideman 
Ethan's picks for best videos/sound-clips:
This video features a Warmoth Telecaster with a Seymour Duncan SM-3 in the neck and an SM-2 in the bridge. Skip to 0:10 to hear the neck pickup on a clean setting; the bridge kicks in at 0:43. The neck pickup (SM-3) has a really warm sound, with deep lows and a clear, detailed midrange. The bridge pickup is similar, yet it has a a slightly higher output with a bit more focus in the upper mids. To hear the pickups with some overdrive, listen at 1:00 (neck), 1:15 (both), and 1:25 (bridge). You'll notice that these pickups break up nicely and have a smooth saturation and warmth. There is great detail in the upper frequencies and the lows add great depth to the tone. Add a touch of reverb and you can get some really hollow tones that resonate with beautiful sustain (listen at 1:50). If you're looking for a warm, vintage sound with sparkle and detail, load up your tele with a set of Mini Humbuckers from Seymour Duncan.
The player is Christopher Freedom and he is using a Warmoth Tele through a Laney LC30II and LH50R out to two 212 cabs with a Celestion Vintage 30 and Alnico Blue speakers.
Check out this Washburn PS2012 Starfire Time Traveler guitar, which features a set of Seymour Duncan SM-3 Mini Humbuckers. You can hear the guitar a bit during the intro, or you can skip to 1:45 for a closer look. With the bridge pickup, you can get a really nice high output crunch tone that is perfect for classic rock, blues, and more. It has a killer vintage midrange sound with a lot of bite and punch. If you switch to the neck pickup and roll off the tone knob, you start to get that classic 'woman' tone (think Cream's "Sunshine Of Your Love"). You get that warm vintage bass tone with creamy saturation for a killer sound.
The player is Dave from Washburn Guitars and he is using a Washburn PS2012 Starfire Time Traveler guitar through a Marshall combo amp.
This modded Gretsch Electromatic guitar has a Seymour Duncan SM-3 in the bridge position. The action begins around 0:27, showcasing the aggressive high gain tones the SM-3 is capable of. This pickup handles saturation extremely well and sports a warm, punchy high gain sound that rips. Rhythm chords sound really full and big while leads are very harmonic and cutting. With the Mini Humbucker design, you get single coil clarity with the thickness of a humbucker, giving you the best of both (very different) sonic worlds. Skip to 2:05 to hear some clean tones, which are equally as impressive. There is beautiful low-end warmth that really rounds out the sound, yet plenty of top end sparkle for those glassy clean tones.
The player is Gonzalo Moya and he is using a Gretsch Electromatic guitar through a Pod XT with distortion and delay.
---
Share this Product
---
More from this collection