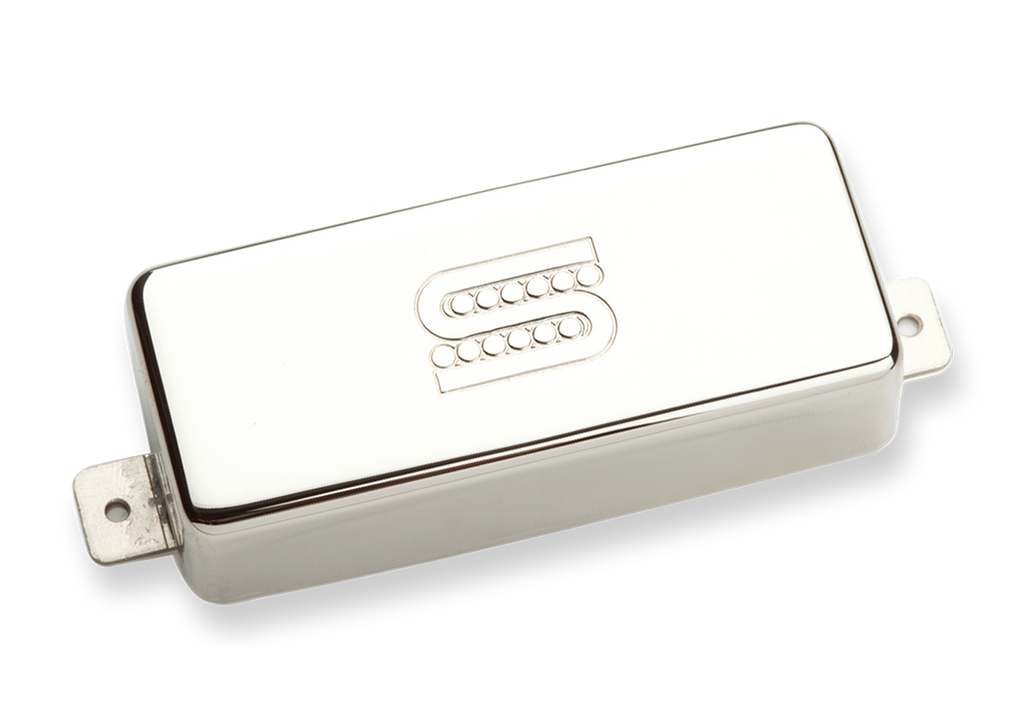 Seymour Duncan
Seymour Duncan Vintage Mini-Humbucker SM-1
---
From the manufacturer:
application
Vintage-correct replica of classic Firebird® pickup. Great for jazz, blues, rockabilly, classic rock and heavy rock.
description
The sound is somewhat of a tonal cross between a single-coil and a humbucker. They're brighter and livelier than a full-size humbucker with more "bell tone." The Alnico 5 magnet and moderate output coil windings make it an authentic tonal reproduction of the great sound of a classic Firebird®. Comes with vintage-style single-conductor hookup cable.
complete setup
Available in both neck and bridge versions. Also, the Vintage is commonly used in the neck with an SM-2 Custom or SM-3 Seymourized in the bridge position for higher output and versatility.
guitars
For balanced and warm instruments. Works especially well with soft wood bodies (e.g., mahogany and swamp ash) and rosewood fingerboards.
players
Sonny Landreth, Rick McRae / George Strait Band, Martha Davis / Motels, Tom Principato 
Best videos/sound-clips:
Check out this Fender American Vintage Hot Rod '52 Tele, which features a Seymour Duncan Vintage Mini Humbucker in the neck position. Skip to 2:35 to hear it on a clean setting. It definitely has sort of a hybrid sound between a single coil and humbucker (almost like a P-90). You get bell-like tones with a deep low end and twinkly highs for a round and musical tone. This pickup seems to have a decent sensitivity to string attack, making it a nice selection for jazz, blues, and rockabilly for those fast runs. With a bit of overdrive on tap (3:00) you get a really creamy lead tone with rich harmonics and smooth dynamics. You can't go wrong with this pup!
The player is Greg Koch from Wildwood Guitars and he is using a Fender American Vintage Hot Rod 1952 Tele.
Here's another look at a Fender Tele Hot Rod '52 and the Seymour Duncan Mini Humbucker neck pickup. The action begins at around 2:00, when you'll hear the fat and warm tone coming from this pup. The low end is very spanky and the tone itself is very articulate and punchy. Individual notes have a nice subtle attack and full chords sound rich and clear (almost glassy sounding). If you like the girth of a humbucker with the sparkle of a single coil, the Mini Humbucker will not disappoint.
The player is using a Fender Telecaster Hot Rod 52 guitar through a Carmen Ghia Dr. Z amp and an Electro Harmonix Holy Grail reverb pedal.
If you're looking to do some noodling and chicken pickin', consider the Seymour Duncan Mini Humbucker pickup. It produces rich clean tones that are clear as day, with warm, spanky lows and chimey highs. The tone is thick like a humbucker and articulate like a single coil, allowing fast finger-plucked passages to translate in a very clean way (with hardly any noise in the signal). With the Mini Humbucker, you get a fat tone that still manages to cut with brilliance.
The player is Kenneth St. King and he is using a Fender Vintage 52 Hot Rod Telecaster through a Fender Super Champ amp.
Check out this modded Fender AVRI '62 Tele Custom, wired with a Mini Humbucker in the neck. Skip to 1:40 to hear this pickup in action. It has nice spongey low end and glassy top end that gives it a fat, almost bouncy tone. This pickup sounds extremely musical and is full of rich harmonics, boasting a bell-like timbre that is incredibly sweet on the ears. Fans of P-90 pickups will dig the balance of humbucker depth and single coil presence.
The player is using a Fender AVRi '62 Telecaster Custom through a 1966 Vibro Champ amp.
Now that we are pretty used to rich clean tones, listen to how the Mini Humbucker handles high gain in the neck position (skip to 1:00). This pickup is extremely clear and articulate, even with tons of gain dialed in. Each note has amazing clarity and the tone is very smooth and velvety. The upper harmonics are very rich and there is infinite sustain for a killer lead sound. Skip to 1:48 if you want to hear some fat clean tones; this pickup is perfect for that mellow jazz tone with subtle attack.  Overall, the Seymour Duncan Mini Humbucker is a great pickup to have in the neck of your axe for brilliant cleans and creamy overdriven leads.
The player is Gonzalo Moya and he is using a modded Gretsch Electromatic guitar through a Line 6 Pod XT.
---
Share this Product
---
More from this collection