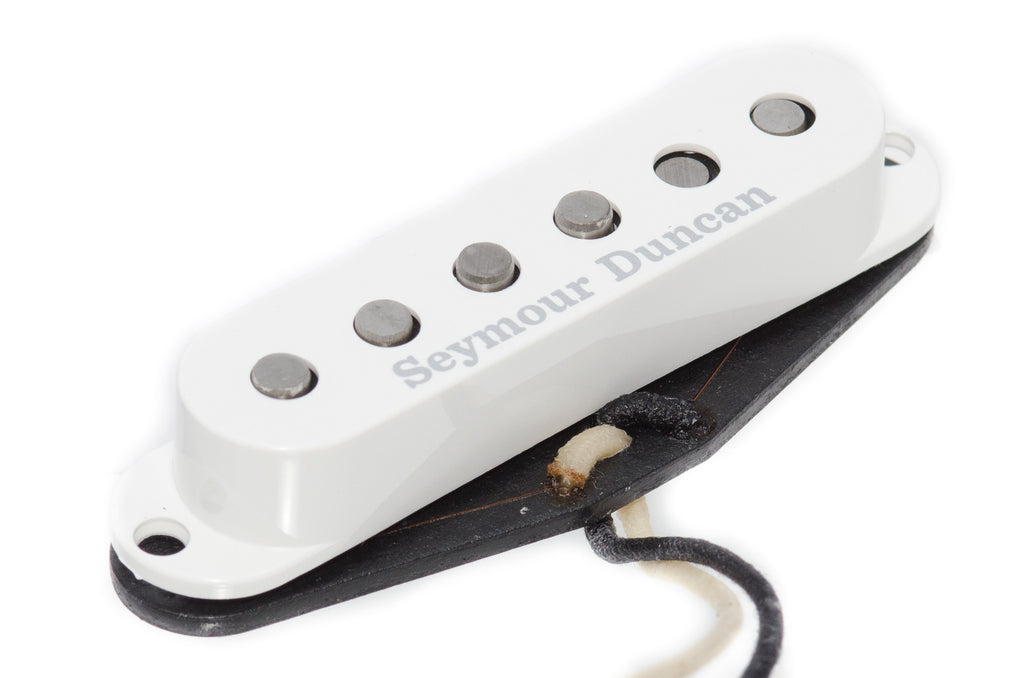 Seymour Duncan
Seymour Duncan Vintage Staggered SSL-1 single coils, individual, sets, and loaded pickguard
---
Brent's take:
A few quick notes for you:  The difference between the "Pickup Set" and the "Calibrated Set" is that the Calibrated Set comes with pots and caps.
The white covers that come with these pickups aren't attached in any way - so if you preferred to play without covers or wanted to change the cover color that would be easy to do.  I've included a picture below without the cover so you can see what it looks like.  The cover in the pic is riding high on the magnets, but I would imagine if you press the leads down a bit you can get it to sit lower; also you will be screwing these to the pickguard so the spring will press on the cover, lowering it as well.
From the manufacturer:
application
Vintage-correct true single-coil for warm instruments. Recommended for country, pop, surf, rockabilly, blues, ska and classic rock.
description
Our most popular single-coil for Strat. The hand-ground Alnico 5 magnetsand moderate windings (Heavy Formvar wire) yield a bright and punchy tone with vintage output. Perfect for players who need accurate traditional single-coil tone, especially with clean and mildly distortede amp settings. Compared to the APS-1, the SSL-1 has a more focused "bell" tone with a light bass response. Comes with waxed cloth hookup cable and vintage-style "keyed" bottom plate.
complete setup
Calibrated "California 50's" set available with RW/RP middle pickup
guitars
For warmer toned ash, alder or basswood body instruments. Works especially well with rosewood finger-boards
available mods
Reverse wound, reverse polarity (RW/RP) middle pickups for hum canceling in positions "2" and "4" on the five-way switch. Left-hand magnet stagger. Available in 7-string.
specs
Magnet type: alnico 5 rods, D.C. Resistance 6.5k
players
Chris Hicks, Kent Wells & Land Scott / Reba McEntire, Dan Schafer / Shania Twain, David Levitt / Alanis Morissette, Doug Pettibone / Lucinda Williams, Scott Henderson / Tribal Tech & Scott Henderson Trio, Jimmy Crespo.
Best videos/sound clips:
Here's a video by Mike Garvey Blues that is meant to be an amp demo for the Laney Lionheart L5T-112 (a 5 watt, Class A EL84 power-tube 3x12AX7 preamp-tubed 1x12 amp).  Mike is playing through a Fender Strat with an SSL-5 in the bridge and SSL-1s in the neck and middle though, so he is also showing off those pickups at the same time.  A number of pedals are used off and on and they are all shown in the video, so I won't list them out here.  The amp is mic'd with an Audio Technica SM57-like mic into a Cakewalk UA 25EX audio interface.  Some really great blues tones and playing here.  The first part of the video is played with a backing track, and from 8:05 onwards is without backing track.  
Here's a video by Seymour Duncan that is very Pink Floyd inspired.  The SSL-5 is used in the bridge and the SSL-1 is used for the neck and middle position.   
The Seymour Duncan SSL-1 pickups give you everything you need for a classic strat tone. The top end is brilliant and the low end is deep and focused -- producing glassy tones that chime and sparkle like bells. This video takes you through the various tones you can get -- from killer blues leads to funky rhythms and straight rock n' roll crunch. Listen from 0:00 - 1:53 to hear these pickups in a full mix with a backing track, or skip to 1:53 and listen on for solo tone demonstrations. Jamming picks up around 5:45, when you'll hear some of the smooth lead tones you can get with these sweet pups.  
The player is Ivan Mahya Deva and he is using a Fender Strat through a Peavey Envoy 110 Transtube with a Boss Blues Driver and DD-3 pedal.
Here's a quick demo of a Squier Strat loaded with Seymour Duncan SSL-1 pickups. This is a great example of how a little bit of modding can work wonders for a budget guitar. Skip to 1:25 to hear it in action. It has this really nice midrange quack to it, giving it that classic strat sound. The tone can also get very warm and glassy -- with nice even lows and crisp highs. A set of SSL-1's really turned this Squier into a beast of a guitar with extremely useful strat tones!
The player is Kley De Jong and he is using a Squier Stat through a Frenzel 5E3 DPIII.
Here is a parts strat loaded with Seymour Duncan SSL-1's. In all pickup positions, these pups really nail that traditional strat vibe. In the neck you get a warm tone with a deep low end and sharp highs for a bell-like tone. The middle position is even brighter and extremely responsive to pick attack. The bridge pickup has plenty of jangle and twang for all your strat demands. These pickups really do a great job of staying true to a classic Fender guitar sound. You can easily get amazing tones for blues, country, rock, jazz, and more. Check them out!
The player is "LeNauEstudi" and he is using an MJT body/all parts neck strat.
The SSL-1's are popular for a reason -- some of the most renowned guitarists endorse these pickups, including John Frusciante (The Red Hot Chili Peppers). Plug into any sort of clean amp (Vox, Fender, Marshall) and you'll instantly have that slinky strat sound at your disposal. The SSL-1's can give you anything from a percussive quack to a bassy honk for incredible funk and blues tones. These pups also crunch up nicely, giving you that sweet and timeless vintage strat sound.
The player is using a 1991 American Fender Strat through a Vox Pathfinder 15 Watt amp.
---
Share this Product
---
More from this collection